Originally the plan was to have the concrete floor inside the office area stained or coated with an epoxy. Both are very popular floor treatments lately and have been done in all kinds of buildings from restaurants to retail stores to places of worship. Because this was not a floor treatment that we've had experience with in the past we took weeks to talk to different installers, check out floors that had been done with those two treatments, and look at oodles of pictures and brochures. Finally we got a few quotes and selected a company to do the project. They came and did some test patches on the floor so we could get an idea what the colors would look like in the space, and to our great disappointment none of them were at all what we had anticipated or had in mind. Back to square one!
After another week or two we selected a tile and found a source to buy it at a good price. Once we selected a tile we could also pick paint colors for the walls. Ziggy rolled up his proverbial sleeves on Wednesday to put down two coats of HydraFlex to protect the tile from cracking if moisture seeps up from the ground under the concrete.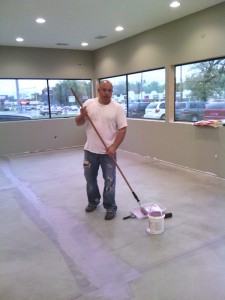 Yesterday the tile installers finally started on the floor! It should be done sometime next week. After that the finish carpentry can be done, the bathroom fixtures can be installed, and we can do other things like hook up the surveillance cameras. Our goal is to open sometime in early November.