At last, the windows and the front door have been installed and the building can be locked up at the end of the day. Now we have a new Westnedge key to go with the original Westnedge keys we kept as souvenirs. This is what the front looked like on Wednesday during the installation: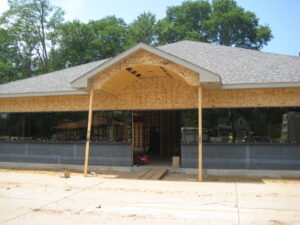 The windows and front doors were installed on Wednesday. That same day the excavator also put in a dry well on either side of the garage, and our brick layer was hard at work prepping the outside walls to put up the stone. So many things were happening at once that it's just easier to put all the pictures into a gallery!
Now that the building can be secured, more work can be done inside with less concern for materials being stolen.