Labor Day weekend our project was the landscaping at Westnedge. In the south corner by the road we now have lollipop crabapple trees that flower in the spring surrounded by two kinds of barberry bushes.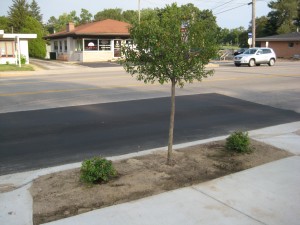 We spent time considering what to plant in front of the building so that what we chose would look good against the stone and not grow so large as to obscure it. Our selections were a dark wine-colored variety of weigela that will have pretty flowers in the spring, an ornamental grass that gets a dark reddish tint in the fall, sungold arborvitae for a pop of color, and a soft round arborvitae called Mr. Bowling Ball.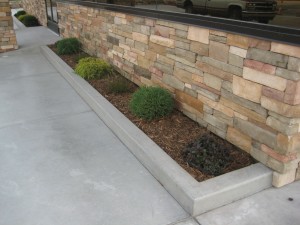 Yesterday and today the builders have been back at the work site putting up the steel inside the garage. Once this is done the insulators can finish the insulation job.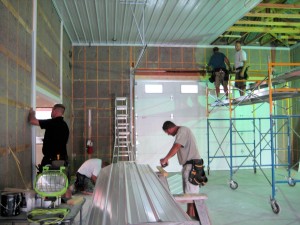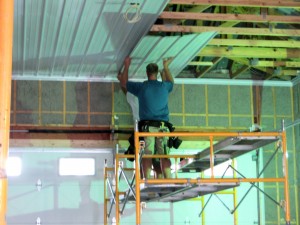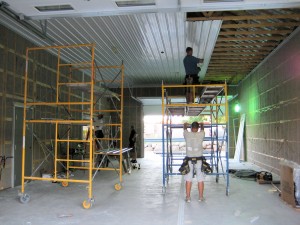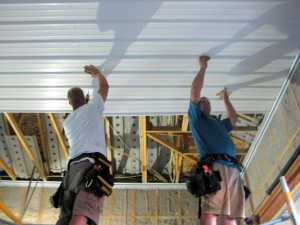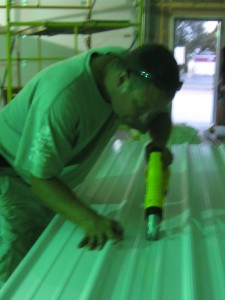 Here's Ziggy himself stuffing insulation between the wall and the door frame.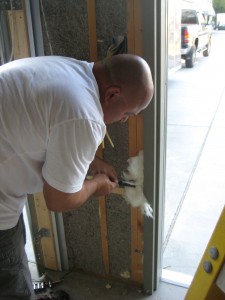 We hope to make a decision on how to finish the floor by the middle of next week so we can get that started. After that is finished the walls can be painted and the builders can come back to do the finish carpentry.