In today's social media obsessed world, it can be all too easy to submit your information to scams, or fall victim to clickbait that hacks your account. On one hand, social media and the internet has empowered us to stay more connected than ever (and therefore value disconnection more!), but on the other, it can be dangerous if you are not careful of where to allow your information to go. After all, your personal information is incredibly valuable, and dealing with an identity theft or even an influx of spammers emailing you (shout out to yahoo users!) can be a pain to rid yourself of. So, before you click that "Login with Facebook" button, consider what you could be opening your account up to. I have personally seen a lot of my friends falling for scams and hoaxes, so I thought I'd share some tips on how to play it safe:
Myth #1
Posting a message like the one below as my status makes it illegal for Facebook to use anything that I post on that site. (You can click the image to open a larger version in a new tab.)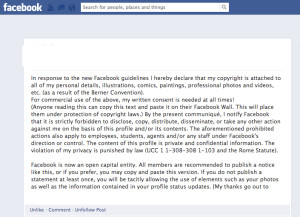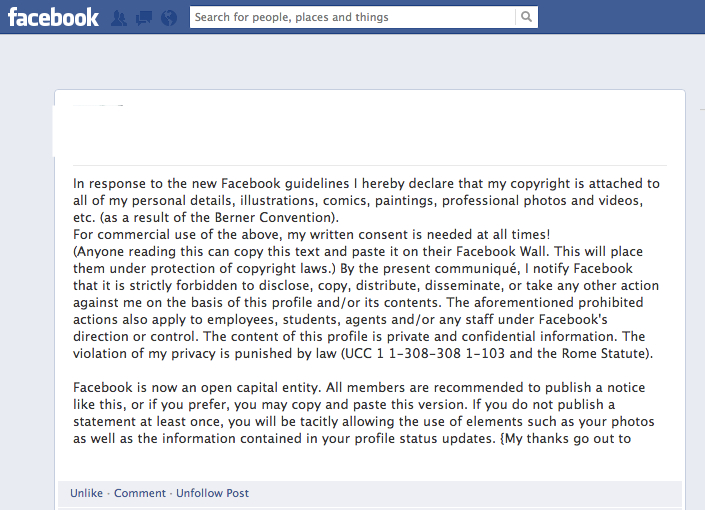 Reality Check #1
When you signed up for a Facebook account you agreed to Facebook's Terms and Conditions. According to Snopes.com, Facebook users "cannot retroactively negate any of the privacy or copyright terms they agreed to when they signed up for their accounts, nor can they unilaterally alter or contradict any new privacy or copyright terms instituted by Facebook, simply by posting a contrary legal notice on their Facebook walls." So, posting a declarative status about legal claims or copywriting or anything of that nature will NOT protect you from the terms to which you already agreed. If you are concerned about your privacy but want to keep using Facebook we recommend you do the following:
Never write and post something you don't want someone else to copy.
Watermark any really awesome photos created by you that you want to share.
Spend a few moments reviewing your privacy settings, here are some tips on what to lock down:
Myth #2
Many web sites now offer a "Login with Facebook" button when I interact with them. Logging in with Facebook is easy and will help protect my information.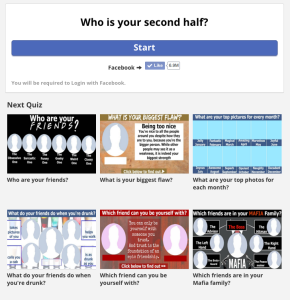 Reality Check #2
Logging in with Facebook is not necessarily secure. More often than not, it is a way for companies (or hackers) to gather large amounts of data about you from just one click and sync. When we log in this way we're literally handing it to them. (I am guilty too). You can remove App permissions under your privacy settings > Apps and this will show you how many applications have access to your profile. Most access your name, friends list, email address, etc. All of those "who is your soulmate" quizzes will be living here, feeding off of your information long after you've confirmed who your soulmate is using that very scientific internet quiz!
Myth #3
I have a very good chance of winning free flights/a Disney cruise/a $250 gift card to a store I love/etc. if I "like" this page or share this post.
Reality Check #3
I had a high school history teacher who introduced me to the concept of TINSTAAFL – There Is No Such Thing As A Free Lunch. In other words, ANYTHING that seems too good to be true probably is. This includes *Giving away 10,000 FREE FLIGHTS if you share this photo!* and other hoaxes. Here are the telltale signs that page is fake:
modified (and unverified) brand name ex: Delta vs. Delta Air Sweepstakes or something like Delta. (with a period at the end),
no form submission required – usually they at least ask for your email as a way to contact you
the item being given away is very expensive or exclusive – eg. Tiffany & Co definitely doesn't give away free jewelry on Facebook! That's a pie in the sky to begin with
a very established brand (such as Delta) having very few fans – their real page has 1.5 million – so a page with 10,000 likes is most likely fake (and why would their team want to manage a new page for every contest?! that would be a lot to handle)
a page for a very established brand has shared very little content. Take 30 seconds to scroll through the page. If there are only a handful of posts and they are all about the same thing – it's most likely fake.
the URL looks shady or suspicious – If the web site giving away those $250 Wal-Mart gift cards or annual memberships to Costco isn't the company's official web site (eg., walmart.com or costco.com) but is something like walmart-giftcardcom.426982QDOC.xyz you can be pretty certain you're dealing with a scam.
Have these tips helped you keep your account more secure? Head over to our Facebook page and tell us how!